December 11, Celebration- Aimee Neff
Day 3
Wow, I struggle to type words to describe what we saw and got to be a part of today. It truly was spectacular!!! Words of hyperbole get overused, and I know I am guilty of using them far too often, but I cannot articulate well enough the joy we witnessed. Let me share with you a few highlights from the day. 
We took part in three well dedications: the Solheim Family Foundation's in Chasakala B village, the FAU Women's Golf Team well in Shenjola, and the Amy Olson and Friends well in Nyeleti B village. Each of these dedications was special in their own way and quite exuberant.  
An older gentleman, Alfred, from Chasakala B village, blew us away as he shared, "I am proud to stand before you because I know that I am clean after washing with clean water." What a statement! If it didn't hit you the first time, please re-read it. There is no doubt that water changes everything. It is life giving and life transforming! 
Several women from Shenjola shared their happiness and relief at a well with clean, safe water now being close by and not nearly as dangerous to access. Each place we have visited today has gone from drinking brown water to crystal clear water. Many don't even recognize the color of clean water for the first time because they have never seen it. If I hadn't seen what the communities yesterday were drinking from, I don't think I could have believed people not recognizing the color of water. Clean, safe water helps the children stay healthy and stay in school.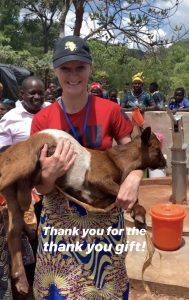 In Nyeleti, we danced with the people and heard singing that rivaled or topped any choir I've heard in the United States. The Zambians have far less than most, but what they have far more of is joy. They sing and dance at the drop of a hat and everyone gets involved. We saw it firsthand as they were singing their praises to God for his goodness and the gift of water! It was certainly the best dance party I have ever been to! Faith has been a key component to each village we have seen and the elders and chiefs of this community spoke boldly about God's goodness to their community.  
It was a day of celebration for a basic need being fulfilled. Imagine if we did this in the US? Sang and danced because we had clean water. It's not as if the Zambians have much, they just simply have clean, safe water and that is worth celebrating. I hope we can mirror the Zambians and find a bit more thankfulness in our most basic needs being met each day.  
Lastly, I cannot say how grateful I am to be a part of this trip to see firsthand the work of Golf Fore Africa and World Vision. I'm incredibly thankful for the countless supporters that helped make the dedication of these wells possible today. I know most will never see the impact of your donation, but I can assure you that it reaches further than you realize! Thank you to all who gave to make this celebration possible today!  
"Being happy is better than being king." -African Proverb