A U.S. WOMEN'S OPEN THAT HAD MORE THAN ONE WINNER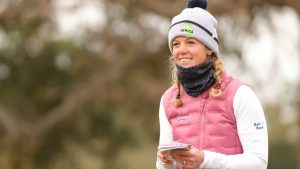 Amy Olson's life has always been about more than  just herself. Family and faith are her north stars. On Olson's hat is the logo of Golf Fore Africa, the humanitarian effort to bring clean drinking water to those in need. In her heart on Monday as she played the final round of the U.S. Women's Open was her father-in-law, who died suddenly Saturday night.
This enormous talent from North Dakota, who at North Dakota State University set the NCAA career victory record with 20, played the final round buoyed by that Christian faith and the always-present love of her family, even though they mourned back home, far away from her.
Winless in 147 LPGA starts, Olson was looking to make her first Tour win a major championship. Twice before she'd been in this position, playing in the final group of a major. Both times she let it get away from her. But his was not a major championship that Olson lost or let slip away.
On a brutally difficult day, A Lim Kim of South Korea was simply sensational. The 25-year-old two-time winner on the Korea LPGA closed with three consecutive birdies for a 67 — low round of the day – to finish at three-under-par 281, a single stroke ahead of Olson and Rolex Ranking No. 1 Jin Young Ko, who shot 68.
Olson's closing 72 was simply outplayed. And there is every reason to think that this championship was a steppingstone for her, not a stumbling block. In fourth place at 283 was 2019 AIG Women's Open champion Hinako Shibuno with Megan Khang at 285 and Inbee Park, Moriya Jutanugarn and defending champion Jeongeun Lee6 at 286.
"I'm very honored to win the 75th U.S. Women's Open," Kim said after a socially distanced champagne celebration with a few friends in a tent rather than in front of thousands of fans on the 18th green. There were no spectators allowed in this COVID-19 year.
Olson, who started the day one stroke behind Shibuno, the 54-hole leader, looked as if she would not be a factor when she made three consecutive bogeys beginning on No. 2. But she got right back in it with birdies on No. 4 and 5.
She then made nine consecutive pars and was at 2-under par when Kim finished at three under. Olson bogeyed No. 16 and then needed a birdie-birdie finish to force a tie. She made par on No. 17 then closed with a birdie to earn a share of second place.
"I struck the ball really well all week and I putted great all week," Olson said. "It was really fun to play well, to put four good rounds together, and just a lot of confidence going into the next event."
That Olson played as well as she did is a tribute to the rock-solid foundation on which she stands. In a way, there was divine intervention on Sunday when the final round was delayed by inclement weather until Monday. Olson had just found out that her father-in-law, Lee Olson, had died unexpectedly Saturday night.
"We had a really special relationship," Olson said. "He's a big, tough, military West Point guy, loved the Army, but had a particular soft spot for the women in his life, particularly his wife and daughter-in-law. And just incredibly generous. Loved to hunt and fish, and we'll have a lot of great memories to take from those activities, doing those with him."
Amy her husband Grant were both star athletes at North Dakota State. He is now a coach with the football team and had originally stayed home. But he traveled to Texas when Amy got in contention only to return home Sunday when he got the news about his father.
"Super mixed emotions," Olson said about her feeling during the final round. "It was a long day yesterday not being able to play, but I did get some good rest. Coming out this morning I had no idea what to expect. It was just one of those things I felt very weak and helpless the last couple days, and probably same went today on the golf course. I really believe the Lord just carried me through."
For Kim, the victory was life-changing event.
"Still can't really soak in that I'm the champion, but it feels different winning the tournament here," she said. "Through COVID-19 we had a lot of difficulties, but glad we had the U.S. Women's Open held in Houston,"
Fittingly, Kim's first victory on the KLPGA was the 2018 Se Ri Pak Invitational. It was Pak's victory in the 1998 U.S. Women's Open that kick-started the growth of golf among Korean women. The victory by Kim was the ninth by a Korean in the U.S. Women's Open in 13 championships beginning with Inbee Park's win in 2008.
"I started playing golf after Se Ri Pak won the U.S. Women's Open," said Kim, who added that she was only 5 then and that three-time U.S. Women's Open champion Annika Sorenstam was also an inspiration. "Se Ri Pak for me is the history that she's written in the LPGA Tour and golf history, here and in Korea, as well."
Kim, who plays while wearing a mask because, "I don't want to affect other people, players, a caddie that's playing within the group," now has to decide if she wants to become a member of the LPGA.
"I just need some more time to think about it," she said. She says she'll celebrate but having Korean food with her family, both of which says she misses. But first there is a matter of 14 days of quarantine when she returns.
Such is the life of a major champion in the year of the pandemic.