Walking for Water with Camino Jim- Day 4. Jeanne can't keep up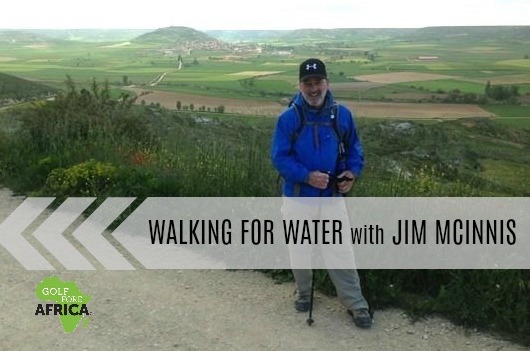 WEDNESDAY, AUGUST 29, 2018
Day 4. Jeanne can't keep up
Today on day number 4, I will walk from Pamplona to Puenta La Reina in the province of Navarro. I have seen the Basque separatist signs and graffiti calling for a sepeation from Spanish control. I doubt it will ever end the way they would like. The walk today will be in lots of sun with little cover so extra water is in order. I slept too late and did not pack well before leaving. My backpack with water weighs in at 26 pounds … well over any weight that makes sense. I keep with me a very small digital scale but what's the point if I'm just going to weigh it just to see how overweight I am? I must shed some weight before I start day 5 but first I will drag far too much weight up more than 2100 feet followed by a very steep decline completely covered in Spanish potatoes. Enough about the complaints … I'm on my way at 
10:15
 at least an hour later than planned. At first I'm talking myself into believing that the weight is not a problem but that's because the first 3.5 miles is out of the city and through the outlying villages. The problem is that once past this point it will be in the open with the sun blazing, up 2100 feet on not the best of trails.
Just before the serious climb begins I catch up to a young women who is moving slowly and clearly struggling. As I come along side of her she turns, smiles and gives me a great big Buen Camino! I stop to chat with her and ask how she feels? I can say without being judgmental that she is in poor physical condition. Again just an honest observation. Her name is Jeanne and she is from Hawaii and is on the Camino with her father who is well ahead of her. Jeanne goes on to tell me that her father is not very happy with her not being able to keep up with him. It's not my place but I can't avoid telling her that the best advice I ever got from a Camino veteran was to never, never try to keep up with anyone and if you walk with someone slower don't adjust. It's your Camino …do it at your own pace, stop when you want to, stop when you need to but just do it for yourself.
I hope she does not get pressured into moving at a faster pace than works for her. I can only tell you that her courage and determination was amazing. I hope to see her again but given her pace that's doubtful. I wished her Buen Camino and moved on. I was really bothered by the fact that she was struggling at the flat and easiest part of the walk today and would soon be facing a very, very difficult climb and an even more difficult downhill march covered in rocks. I pray she makes it okay.
I reach the top of Alto del Perdon , often called the Hill of Forgiveness. I can't voutch for its accuracy but I have been told that the name comes from a belief that if you ask Him for forgiveness of a sin or something else you want to be forgiven for your request will be grated if you complete the walk to the top … Alto del Perdon. I asked … it can't hurt.
The day was again very hot, temperature was at 90 degrees or close to it. The one thing good that comes with the location is that it is very windy. Windy enough to have at the top dozens of huge wind turbines spinning endlessly which or course means that the very same wind is having a cooling effect on you as you climb the hill.
Once over the hill it's time to face the potatoe farm. Get the poles ready this will be a challenge. It's a straight downhill journey for about a mile. It seems longer because you just have to take it slowly. I reach the bottom and I have only six miles to go but it's fairly flat so i feel pretty good with one caveat… my shoulders are getting my attention. I stop for Water at a little cafe and meet Marjorie and Gary. They live in  Greenwich, Connecticut. Gary is also retired from the financial services business. He was a trader with Lehman Brothers before the 08 collapse. They ask If I would like to walk along with them. We walk together for about three miles but we stop several times to give Marjorie a chance to rest. Keeping with my own Camino coaching I decide to move on. We agree to meet for dinner as we have basically the same route.
I arrive in Puerta la Reina. My Hostel is at the very entrance of the village. I check in and I'm in the process of getting the laundry taken care of when a thunderstorm erupted without warning and it's immediately a real biblical downpour. Ten minutes earlier I would have been caught in it. I hope Jeanne is okay.
Dinner and straight back to the room to nurse my shoulders with another dose of iduprofen cream. That's it. Good night and Buen Camino.
Oh yes,  to someone very special to me … have a great trip, you have earned it! 
 U.
Steps today, 36,242
Miles today 12.8
Total steps to date 151,356