Walking for Water with Camino Jim- Day 19. Entering Sahagun we pass the official half way point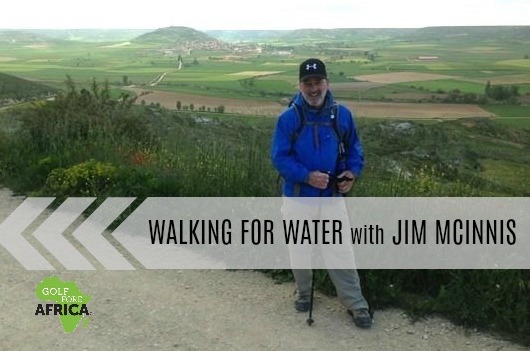 WEDNESDAY, SEPTEMBER 12, 2018
Day 19. Entering Sahagun we pass the official half way point
Day 18 was as shown by the lack of photos a flat straight fairly long day. It was once again  hot … in the sun which was where we spent most of the day. It was really warm … like 95 warm. There is nothing you can do about it, you just put one foot in front of the other and you keep going.
There are not many stops along today's route so when they appear you as almost everyone else does stop to get water and take a break out of the sun. I catch up with Don, Candy and Jeff. Jeff is staying at this location which is about seven miles short of where I'm going. I'm a little hungry because the carbfest today was really weak. Everything was "packaged" so that meant bad. I did have two Cafe Con Leche. I go inside and I see what looks like a sausage which it is … a chicken sausage. I order one and it's good. Everyone else seems to be here for a long stop. Gary, Margot and their two friends arrive just as I'm heading out. Camino rule, I'm ready to go so I go.
Here is the part about the end of Day 18 I did not include. Gary, Margot and I are outside having a beer waiting for the pilgrim dinner to start at 
7:00
. Margot says hello to a women I've not seen before and she strolls over to talk with her. In tow is her husband. I'm not going to tell you their names because it doesn't matter … they are officially the "Bores". I have never … never met two more completely boring people anywhere. They are the number one ranked boring couple on the planet and I can't imagine them giving up their title.
Margot being the very nice lady she is asks if they want to join us for dinner as we are all being called in. I can see on Mr. Bores face that he wants no part of any interaction with anyone but Mrs. Bore ( also reluctantly) says yes, a very weak yes. I get stuck next to Mr Bore and it felt like an interrogation at the CIA. No mater what you asked him about any topic his answer was either a weak yes or no or he just didn't respond. By the way he never … never asked you a question … any question. Gary should get a Special Compostela for being forced to try to speak to both of them … I only had the Mr. Bore challenge. Where do these people come from? Why are they here? They could make a great deal of money pushing antidepressants. All they need to do is be near you just be close by and you will need both drugs and Theraphy. Put them in a comercial on TV and people would be running to the Pharmacy!
I didn't put this in last nights blog because I did not want to offend Margot. Well today when we all ended up at the half way point Gary asked me about my conversation with the Bores and we all just went crazy talking about how painful dinner was. That gave me the green light.
So on to today, Day 19. Much like yesterday, long, hot and flat. We all meet up at the half way point take photos and then agree to walk into Sahagun and have Lunch together. It was great. I had a piece of chicken which was much needed protein. At the end of lunch I'm off first. There are two different villages to go to separated by miles. I'm going left to Bercianos along the road route and the others are going through the forest to Calzadilla. I have been to both before having missed the turn and ended up in the wrong place. I'm moving along and I hear voices behind me yelling "Jim!" It's them, I have once agin missed the same turn. They catch up to me and of course can't wait to rag on me, which is earned so I turn around and head back to the turn I've missed. Four miles later I arrive at my destination and check in. Once I take care of the laundry and shower I'm getting ready to head back downstairs to get on the WiFi but there's just one problem. All of my cash .. the Euro's are gone. I look everywhere and then search twice. Somewhere between lunch and here I have lost 300 Euro and I have no cash. I go downstairs thinking that I dropped them when I checked in but there are no Euro laying on the floor and when I ask if they will take US Dollars even at a two to one rate they say no. Same response to the credit card question.
What to do? I call a taxi and he takes me back to Sahagun to an ATM, there are none in this little village. All good. One thing that did get my attention as we are zipping back to Sahagun along the very same Camino path I just walked for six hours and we go round trip in just under 40 minutes. Puts the walking in prospective.
I get back and head to the cafe at the entrance to the village because they have better food. I'm right. I have the ensalada mixta and it's good. I'm now back in my room planning for an early night and lots of sleep but my room is an oven. It's just unbearable. I will most likely head back downstairs until the sun goes down and hopefully cooler temperatures will arrive.
I also want to give a shout out to my daughter Jessica and my son-law Brent …Happy Anniversary! Also to my grandson who on the anniversary fell from a jungle gym and broke his elbow … surgery 
on Thursday
? Hey Talyor it's Poppy, everything will be fine and you be better than ever! Looking forward to seeing you soon. 
 Poppy.
Good night , Buen Camino.
Miles today: 13.9
Miles to date: 242.3
Steps to day : 34,741
Steps to date : 685,279
Flights to date : 607