Walking for Water with Camino Jim- On My Way…No Turning Back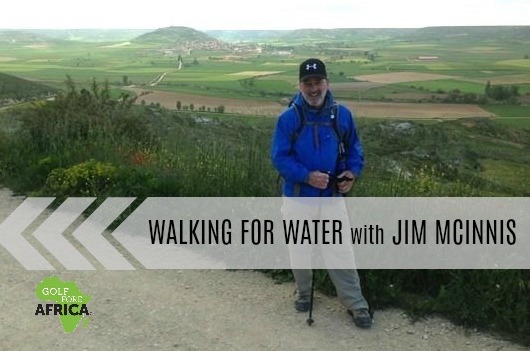 THURSDAY, AUGUST 23, 2018
On my way … no turning back now.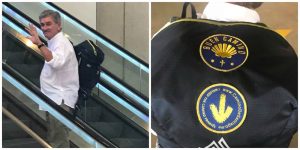 Well the day has arrived and I am sitting on a flight to Madrid. I have another six hours to go and then a quick connection to Pamplona on a puddle jumper which will get me there around 4:00pm local time. Check into the hotel take a short walk to Hemingway's bar directly across the street and have an early dinner.
I should be tired enough at that time to crash and get a good nights sleep. Staying at the Hotel La Perla here in Pamplona gives me the option of reducing the weight of my backpack for the first three days because the Camino takes me back to Pamplona on the third day. I just take out whatever I will not need for those three days and leave it at the hotel and retrieve it when I return on the 27th. Given the fact that the first two days are very difficult the reduced weight will be welcomed. Robin came up with the idea on my first Camino. It was a great idea then just as it is now.
I packed this morning and went over the list a number of times fully believing that each time I checked I was sure I had forgotten something. Obviously there are critical items which can't be left behind. Passport, medication, credit cards and a number of other must haves. Given the fact that I have been known to forget to bring things and or leave them behind helps to create doubt when it comes to things like packing for a trip or packing to go on a 500 mile walk carrying everything you only remembered to bring.
I packed everything I had on my must have list and then weighed the backpack. Much to my surprise the weight was almost two pounds under the target weight of 20 pounds. That lead to my increased belief that I must have missed something which in turn got me to unpack, check the contents and pack again. I repeated this process three times until I was finally convinced that I was good to go. Just for the record when Robin was backing out of the garage to take me to LAX I had her stop and I got out and pulled my backpack out of the trunk and once again checked to be sure that I had my passport, medication and credit cards. Yes, they were all there.
The reduced weight also caused me to consider bringing along a few other items; extra socks, shorts, chargers and a few little things and I was soon back to the target 20 pound weight. I did not include my walking poles in the weigh in because I will be using them more often than just carrying them and I could not attach them anyway because TSA won't let you carry them on. I went to Fedex and bought a shipping tube and packed the poles in the tube with the hopes that I could check them through to Pamplona to avoid having to buy another pair. Robin warned me that because I had to book the flights using to separate tickets there was a string possibility that. Iberia would not check the poles to Pamplona which would mean I would have to get them at baggage claim and check then again to Pamplona. That was not an option.
Robin was correct … when I went to the ticket counter at LAX I was told that they could not check them through to Pamplona. I explained to the agent that I would not have enough time to do that so I would just have to leave them behind and buy a new pair when I got to the Camino. I got lucky because the agent went to see her manager and somehow she managed to have them checked to Pamplona. Clearly a good first step and hopefully a sign of what's to come.
Robin and I'm had a quick lite lunch and I was off to the gate. A very long line of people and with no TSA pre-check it was slow. I am still amazed at how many people appear to be going through security for the first time … ID and boarding pass not ready, shoes on, water bottles, cell phone in their pocket,  etc etc. it never fails that the people I just described are destined to be just ahead of me in line.
Oh I forgot to mention that two friends gave me a great send off gift … a package of a dozen dark black sunglasses to take with me! They remembered that on my first Camino I managed to lose six pairs of glasses. I thought it was a very creative and meaningful gift but I only brought along just one extra pair because of the added weight and a lack of room in the backpack… but it was a great idea.
Only about five hours to go so I will try to get a little sleep but I'm not optimistic. Good night, Buen Camino.