Walking for Water with Camino Jim- In St. Jean, France the starting point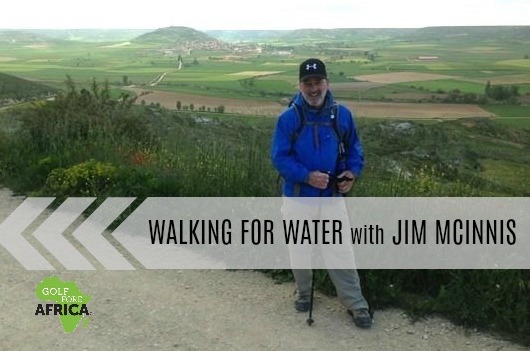 FRIDAY, AUGUST 24, 2018
I finally got to sleep last night in Pamplona around 1:30. The good news is that I slept in until 11:30 just a half an hour before my transfer to St. Jean France.
I worked on what I was and was not going to take with me to get the weight down and it worked out well. I left behind nearly four pounds which is really significant and will make the journey over the mountain a bit less challenging.
When I first looked out the window it was raining. Once outside the rain was very light and the temperature was around 80 but comfortable. My driver was right on time and we made the usually 90 minute trip in record time. I don't know how fast he was going but he was hell bent on passing anything in front of him. The road is both narrow and winding, lots of tight curves. I think he may be practicing for Monaco. In the end we did get there quickly and I could sense that he was proud of his time … almost like he was looking for the checkered flag.
I am staying at the Hotel Ramuntcho, small but very clean. My room, which I sent a picture of is small and the bed isn't a sleep number unit. I was going to use Mike's all purpose check in line …
"I am a Marriott Lifetime Platinum Member" in an attempt to get upgraded but I'm sure it would not help. Therarno suites in this hotel. The room is fine.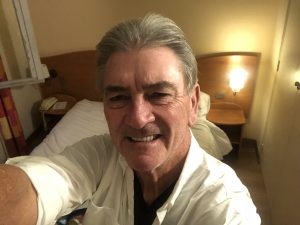 I checked in and then headed to the Camino office to register and have my Camino credential stamped and signed by the Camino volunteer. That makes me officially on the Camino.
Given the forecast for tomorrow I'm not sure if I will buy a poncho. It's really warm and humid here and the poncho turns into a sweat chamber so I'm leaning in the direction of just wearing my rain proof light weight pullover. First I will visit a local Camino shop to see if they have a newer version with a zipper front. While I'm out looking at ponchos I will also by the water for tomorrow along with a piece of fruit. I will by a sandwich for tomorrow just before I check out of the hotel, that should be more than enough to get me through the day.
Well I bought the poncho. It has a full frontal zipper which makes it easier to put on and take off. The Camino shop here is well stocked with just about anything you need. Nice people. I asked about the weather and they went on line and the forecast calls for a temperature of 90 in St. Jean but at the top of the mountain it say a high of 56 degrees. That's quite a change and that will mean multiple wardrobe changes along the way.
Dinner here in St. Jean was simply a pizza and a glass of wine. Carbing up for tomorrow. It's easy to tell that I'm no longer in Spain because everything is twice the price but still reasonable. The village is crawling with tourists. Lots of young families … it's August and that's when most of the Europeans take their holiday. I did see a few pilgrims arriving late today but over all the Camino people are a very small percentage of the visiting population.
Up early, a quick breakfast and then onto the Camino. First stop Roncesvalles Spain a walk of 18 miles adjusted for the increase elevation of nearly 5000 feet.
Thanks to all of those who have sent lots of messages and prayers for a safe journey. I'll do my best. Good night, Buen Camino