Walking for Water with Camino Jim- Day 7. The Quiet Little Village of Los Arcos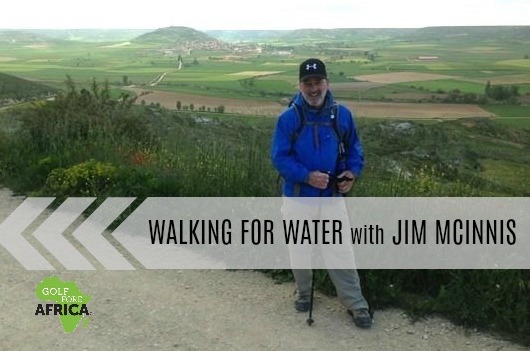 FRIDAY, AUGUST 31, 2018
Day 7. The Quiet Little Village of Los Arcos
First let me just point out that the first time I was here in Los Arcos I ended up in a police car being driven to what was described in my itinerary as the "Villas at Los Arcos" which turned out to be a couple of miles away from Los Arcos and the "Villas"was a truck stop / gas station. Regardless it was memorable and as a result the next morning I met Michele the Italian chef who has a restaurant in Germany which in turn resulted in my meeting and walking, dining with Rainer, Nelly and Fernando, Emma and Emily and others.
So here I am not in the"Villas" but back again the the plaza where an hour before I had the pleasure of meeting Irish Ann the 2018 version. I was not looking forward to the possibility that she would once again might be there given the fact that it is the central gathering point in Los Arcos. Fortunately she was not there. I walk into the cafe and order a small beer … I have an hour to kill before dinner.
I walk back outside looking for a place to sit and there are many chairs available but with the exception of only one they are all in the sun. I have had enough sun for the day so I go to the empty chair at a table being occupied by a young guy drinking his coffee and reading a book. I ask if the chair is taken? It's amazing how accustomed we become to asking questions of total strangers in what is likely not their native tongue and expecting an answer. So … he says yes in perfect English, welcome. The conversation starts when he asks me where I am from. I tell him and return the question and he tells me that he lives in Barcelona. He goes on to tell me that he would one day like to visit California. I ask him if he is on the Camino and he says yes but not to Santiago. His name is Carlos and he then tells me that he is walking from Santiago back to his home in Barcelona. I ask how far the walk will be and he estimates that it will be about 1200 kilometers which is close to 700 miles … it is his second Camino but the first on this route.
We discuss the Albergues available along the way and he starts to laugh just as he is also rolling a cigarette. He tells me a story about staying in an Albergue just a few nights ago where the snoring was the worst he has ever been subject to. He goes on to tell me about a young women two bunk beds from him who snored the loudest of anyone and snored all night long until the alarm went off. Alarm? I asked what he meant. He laughed again and then told me that at this Albergue the owner would set off the fire alarm at 5:30 in the morning and continued to do so every five minutes to get the pilgrims to leave early. Only one problem. When Carlos went to get his boots they were missing and in their place were a similar pair but a smaller size. He borrowed a pair of flip-flops and ran down the guy who took his boots before he had gone to far. If he did not catch him he was facing the last 300 miles walking in a pair of boots that did not fit.
We talked for about an hour and he was very interested in what jobs could be found in the US for someone with little skills but is willing to work for a chance to learn? I really did not have an answer so I asked him why the same opportunity was not available in Barcelona and he just shook his head and said not now.
So now here I am in Viana after a walk of only 12 miles. It was uneventful but warm again. As I arrive in the village I need something to drink so I stop at a little cafe where I meet Peter and Heidi from Sweden. Peter speaks English, Heidi not so much. Peter asks if I'm am going to Santiago and as I say yes he asks where I started and when I started. Basically Peter and Heidi started in the same place, St. Jean France but started walking three days before I me and I am now where they are. They are using the "Donkey Service for their luggage but Peter tells me that he is very tired and that Heidi is worried about him. Not much I can say except that he might consider skipping a long day here and there and just taking a taxi to the next village not to risk getting hurt. He interprets with Heidi and she is in agreement. I probably won't see them again, our schedules just won't match up.
There was a young couple at the plaza last night and she was in pain. She was not limping … she was dragging her foot. I saw them today and took a picture of him wrapping her foot and ankle and doing a really good job. Fortunately today was not as difficult and I wished them well. Time will tell.
I also saw the young quiet Italian guy today and once again he made every effort to ignore me. Here is the good news … I have a name for him. I will from this point forward refer to him as Harpo as in Harpo Marx, the mute member of the threesome. I'm sure there are a few readers who are now Googeling Harpo Marx.
That's it for day 7 … one week completed.
Steps today 29,015
Miles today 12.1
Total steps todate 254,031
Good night, Buen Camino.