Walking for Water with Camino Jim- Day 5 . On to Estella 13.4 miles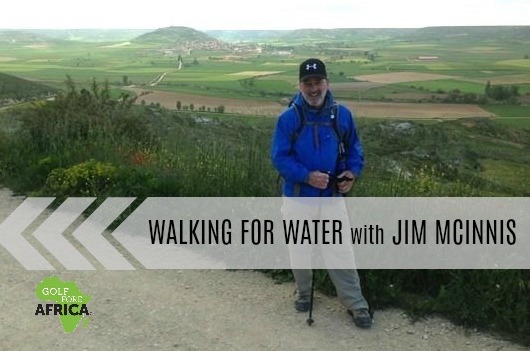 THURSDAY, AUGUST 30, 2018
Day 5 . On to Estella 13.4 miles
I was awake early to be sure I took the time needed to get my backpack weight down to a more manageable level. Yesterday's weight was over 25 pounds and by the time I went to dinner my shoulders were very stressed. I left behind a pair of pants … it's too hot so shorts only. Also not going on with me … two shirts, two pairs of heavier than needed socks and a host of odds and ends. The final result was a weight of 21 pounds with water. I also reduced the water and I will just have to be more mindfull of stopping for water more often than carrying the added weight.
It was around 75 degrees when I stepped on to the Camino at 
8:30
. I felt a bit sore but all in all no real complaints. I had forgotten about that first hill after about two miles from Puerta la Reiner. I took a look at my iPhone to track just how long it was. Hard to believe but it it's all up hill turning left and right and then back again for 1.2 miles. The Brierley guide book has the elevation change at about 700 feet but I can tell you that it's much more difficult than it sounds. I stopped four times to just lean on my poles to catch my breath and drink a little water. Once at the top I could see that I was not alone in how tough I thought the climb was. There were several Pilgrims sitting on the ground and taking an extended break.
There was a women, Caroline, who reached the top just behind me and as I was catching my breath she stopped to chat. The first comment she made was how big a surprise that hill was because she had not heard anyone mention it. I agreed with her but just left out that I had done it twice before but I too had forgotten about that hill. Caroline is from Perth, Australia. She is here in Europe for the first time and is walking the Camino in the most interesting way. First she asks me if I'm going to Santiago and I say yes. She then asks how long it will take me. I pointed out that my plan was to walk straight through and to complete the Camino 
in 34 days
. I then ask her what her plan is and she tells me that she must finish by 
November 19th
! I'm really confused but I don't want to say anything to offend her and I know that she just walked up a pretty tough hill without any serious problem. She can tell that I'm am confused and she then explains that she is on a 17 week vacation and is mixing it up a bit. Example: She tells me that a little more than a week ago she walked to Pamplona and stayed there an extra night and then took a train to Luxembourg, stayed there and then stopped in Paris before coming back to Pamplona where she walked to Puerta la Reiner and today to Estella. Her plan is to decide soon where to stop again to get on a train to go to places yet to be selected and then return to the Camino. In the end she may complete the Camino or she may not depending on how she likes the other places she decides to visit. Now that's a first. I wanted to ask but I didn't … how do you take 17 weeks vacation without creating a job issue?
I did not see Marjorie and Gary today but that's not a surprise. The time you start and the pace you continue on is anyone's guess as to whether you will see or not see some people. I did see the young quiet Italian today about five miles from Estella. He was sitting outside a dumpy little cafe and I needed a break and some water so I stopped. When I got my water I went back outside and the only empty chair was right next to him. I sat and then just waited to see if he would say anything but he did not. I hope he's not a salesman because if he is he will starve to death.
I now have my first minor injury. I kicked a very large Spanish Potato today while going downhill with my right passenger. The middle toe is bruised and sore. No doubt the nail will soon be history. I waited to check it out until I reached the hotel and when I removed the sock it was bloodied but there was no swelling that I could see. Once I cleaned up I went to the Farmacia and was helped by a very nice young lady who spoke perfect English. She understood my problem and quickly gave me a toe cap bandage which will cushion the toe from some additional damage.
In an effort to reduce weight I decided to reduce the amount of water I was carrying which was fine but I ran out of water with about three miles to go and it was very hot and without any shade … I must do a better job of keeping track of where I am to be sure not to run out again.
I have stayed at this hotel before. It's nice and centrally located. The same women was at the desk the last time I was here. On that visit I only realized that I had left my only charger back in Puerta la Reiner when I arrived in Estella and was in a panic because it was a 
Sunday
 and I needed a charger. I asked her if she knew where I might be able to buy one and I still recall her telling me to wait a moment. She went into the back and came out with a box of chargers left by others guests and told me I could take one or even two if I wanted to. Saved the day. Please note that obviously I am not the only one leaving things behind.
Tomorrow
 on to Los Arcos a walk of 13.5 miles with about a 900 foot climb at the very beginning.
Steps today 38,829
Miles today 13.6
Total steps to date 190,185
Good night, Buen Camino.