Walking for Water with Camino Jim-Day 32…walking 15 Miles to Ribadiso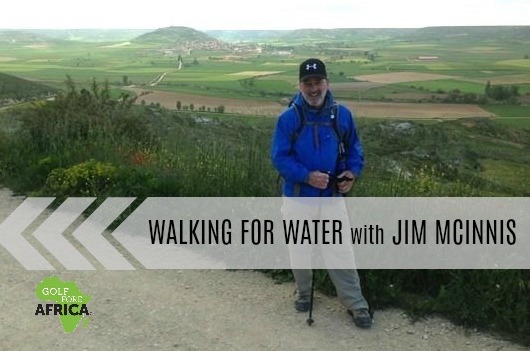 WEDNESDAY, SEPTEMBER 26, 2018
Day 32…walking 15 Miles to Ribadiso
The forecast tells me that the expected temperature should be about cool as we begin and getting to the mid-80's at the end of today's walk while clear and sunny which would be another great weather day. I can only guess what the crew of the new pilgrims would be going through if they were facing the same weather we had three weeks ago or worse yet the nonstop rain I had on my second Camino. Today's walk will be fairly flat with increasing elevation at the end of today's walk which should help those with issues.
Pat and I start out today at 8:30 and immediately face a little hill. Little meaning it's not straight uphill but it's long and as usual it's early so it gets your attention. We cover the first two or three miles quickly and take our first short break for coffee or a Coke Zero. The Cafe Casinova is understaffed and there are about six guys waiting to have their order's filled. It turns out that it is the group of young military veterans with a variety of combat related issues all walking together with a Chaplain. All but one is an army veteran and one served in the Navy. We chat with them briefly and move on to the next cafe where we stop and Pat grabs a bite to eat. I just want the Cafe Conleche. We push ahead and make good time. The new pilgrims seem to be more spread out or perhaps are having a slower start than expected. Regardless it makes the walking better. The temperature is about 60 degrees and there is a breeze so we are both wearing an additional layer. It's really another nearly perfect day to take a 15 mile walk.
What we don't know at that time is that with about five miles to go the temperature will have climbed to about 85 degrees. No complaints … we all agreed that the lack of rain has been a blessing. When it's really hot you always have the option of stopping and taking a break. That break can be as simple as just sitting on a large rock and drinking a little water or it can be socializing at an out door cafe with shade. If it were raining that all changes. On my last Camino I was wet nearly all of the time and it made everything very difficult. Pat and I stopped at a restaurant today and shared a Pimento Pedron in the same place I was in on Camino two … the only difference is that the last time I was here I was soaked to the bone and miserable and today I'm sweating but nothing else is wet which is so much better.
Pat and I met a new Pilgrim today … he is an Italian, he is 80 years old, has a backpack and moves like a man much younger. We walk with him for a short distance and he barks out "chow" as we walk away. Pretty impressive.
While Pat and I are there Gary, Margot and Candy arrive and join us. We take a little longer than average break. Once we all decide to get back on the Camino we head out and then walk together for the final 10 miles. The topic of the four crosses I buried five years ago comes up because the place a buried them is just a short distance away. I buried them at marker 48. I remember that I felt comfortable that the marker would be permanently part of the Camino. I was wrong. The markers have been replaced with new versions and the distance on the marker is set by a more accurate system using both the number of Kilometers with and meters from that point so that what was marker 48 is now been replaced. What was 48's location is now somewhere  between 48.116 and 47.266. Long story short we could not find the location. Bummer.
The walk for the last three miles gets tougher as it climbs up and into the village. I can feel the effects of walking more than 475 miles setting in especially as the heat returns. I can only imagine the new comers facing this hill which ends a 15 mile day. I am booked at the same Hotel as Gary and Margot but Pat is in another location much farther away. We are checking in and Pat is going to arrange for a taxi to bring him back to his car but checks first about availability and it turns out he has a room at our place. The guy managing the hostel also helps Pat find another location for tomorrow so it's all good. Candy and Don are searching for an accommodation well past our location.
The four of us meet for dinner and then call it an early night. Tomorrow will be a short day but once again we will face an attention getting hill as soon as we start on our way to Rua, Day 33 also known as SANTIAG Day. I have two days remaining with a total of only 23.5 miles to go. The weather tomorrow shows early morning cool temperatures with them rising to nearly 90 degrees in late afternoon. I anticipate that we will leave early enough to avoid the hottest part of the day. At this point I'm really not concerned about it … we will leave when we are ready.
G Day is here.
Good night. Buen Camino.
Miles today: 14.8
Miles to date: 476.5
Steps today: 39,212
Steps to date: 1,142,581
Flights to date: 991
Donations to date: $35,450.40