Walking for Water with Camino Jim-Day 31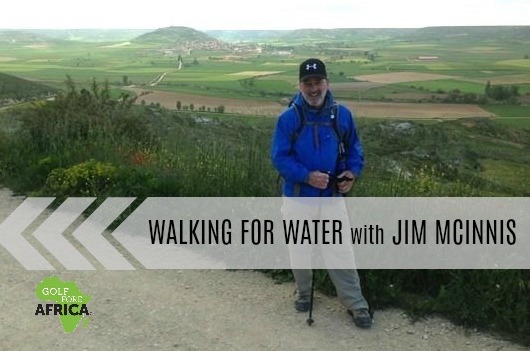 MONDAY, SEPTEMBER 24, 2018
Day 31
The end of Day 30 was a good one. Pat and I both made the twelve plus mile walk with only two short breaks and no physical issues. Pat has not been training but you could not tell based on his walk and speed. He breezed right through the entire day. After the car transfer was completed we met at a restaurant a short distance from our hotel. I was there first and frankly the waitress was not interested in her job. It's rare here to find someone as disconnected from their work so we decide to walk up the hill a short distance to the center of the village where there are several other cafes.
We grab a table and then do our best to connect with the waiter. I say the waiter because there is only one … there is never an overage of help, it's quite the opposite. When we finally get his attention Pat orders the Pimentos Pedron, cheese and vino tinto. The Pimentos Pedrons are amazing and I will have them whenever possible. I can't remember what they are called so Pat comes to the rescue. Don and Candy stop by to chat on their way to meet a young women they met on the Camino today. It's her first day and one of her shoes has fallen apart so Candy loaned her the extra shoes she has, so she is now on the way to get them back. One day on the Camino and your shoes fail? Obviously preparation was not a part of whatever planning she did have.
On one of our short stops on Day 30 for a Coke Zero, we sat with a young guy from Panama. Cesar is a pilot at the Panama Canal and is here only for the five days from Sarria because he just can't take off the time needed to go further. Interesting guy with a very big job. He is very fit and will breeze through unlike the vast majority of the people who started from Sarria who are already struggling after a very short stretch of their Camino. Lots of blisters, limping, tape and more.
So here we are walking together on Day 31 and moving quite well, passing more than our share of the new "pilgrims" who are completely oblivious to what or who is around them. We catch up and walk with a young guy recently in the Marines and about to begin his career as an attorney in Boston. We discuss the Redsox and it turns out he is a Yankee fan which I forgive him for. Pat and I stop for a Coke Zero and Billy moves on.
I have not looked at my phone for awhile and we have been keeping track of the Camino markers which tell you how many Kilometers there are between that point and the Santiago. As we enter a village, Pat believes that we have reached Palas de Rei but I think we may have another two miles to go. Fortunately Pat is correct and as we walk down the hill past the church I do recognize the village and I can see the hotel I have stayed in before. I'm at a different hotel and Pat's is down the hill. We decide to have a bite to eat, it's about 2:30. Pimentos Pedron, a beer and bread and we are good to go. As it turns out I have walked down the hill past my hotel which is not very far. Pat heads to his hotel and I'm back up the hill to find mine. I find it and it's very small. I ring the doorbell and a women opens the door and proclaims "The Champion". I am the first guest to arrive and she tells me I get the best room. A much older lady shows up and hands me a small bottle of cold water and acknowledges that I am the "Champion". They are mother and daughter. I know without a doubt that I'm going to enjoy being here. My room is tiny but the shower is great even if small and they offer a laundry service for five Euro. After the shower I head back downstairs and deliver my laundry. As I write this I am sitting in the living room having a glass of Vino Blanco. The people who own and manage this little house are among the nicest I have met on any Camino and that is saying something because I have met a great number of very nice people.
Pat and I meet for dinner and it's actually a bit cold, clearly the weather has changed at least for today. I believe that today was the best walking weather I have had in all of the thirty one days on the Camino. Lots of shade and when you stepped into the sun it was refreshing not punishing, as were so many of the days during the first two weeks. We grab seats outside a small cafe and have a glass of wine. Next to us is a table of three Americans who have started in Sarria. It's their fourth day which means they are currently averaging about seven miles a day and one of the three is completely worn out. Welcome to what is the easiest part of the Camino. I'm not sure I would fly to Spain, carry no backpack and walk seven miles in a crowd … why not just stay home and go for a walk?
Pat is at a different location so we first walk down to his car where he can retrieve his sweater and then we walk back to my nice little hotel where I will get my jacket. While we are there we have a glass of wine and Maria Cruz greets me with "The Champion" title.
Also while we are there a young Norwegian, Tommy walks in. I met him by introducing myself to him a couple of hours ago while starting the blog in the little living room. He is painfully shy and describes himself to Pat and I as being out of shape and his limp gives that away. A nice young guy just trying to find his place is what I believe. We leave for dinner. Our first choice for dinner is a place I have been to before but they are sold out and only allowing pilgrims staying in their hotel to take a table so we leave. There is another restaurant next door so we go there. The food is okay but Pat orders something I'm not familiar with and tells me it's very good. My veal is okay.
It's now just about 9:00 and we head back to our hotels. When I arrive at my hotel the three older sisters and the niece are there and they greet me like a long lost cousin. One of the sisters makes her own brandy and they offer me a little shot of it but also instruct me to just sip it. It's very good. The next thing I know I'm sitting in the living room as they show me all the pictures of the all of the children, grandchildren and great grandchildren. It's not hard to see who is related to who. The oldest sister is really proud of her great grandchild, Anna who is an attorney in Madrid. I can honestly say that in all of the 102 hotels and hostels that I have stayed in on all of my Caminos this is by far the best of all of them. The nicest people and a very quaint little place that feels like the home of an old relative you wish you could visit more often. A most memorable day. Tomorrow Day 32.
Good night. Buen Camino. Today was SANTI Day.
Miles today: 13.9
Miles to date: 461.7
Steps today: 38,213
Total steps to date: 1,103,269
Flights to date:  941
Donations to date: $35,450.40