Walking for Water with Camino Jim-Day 27… S Day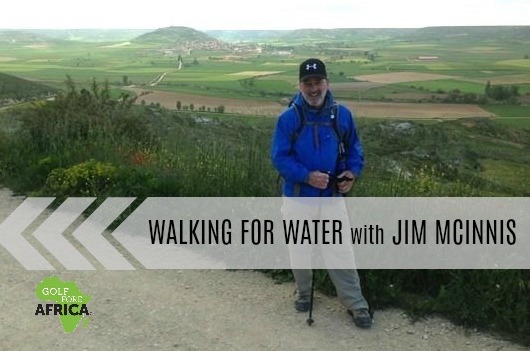 THURSDAY, SEPTEMBER 20, 2018
Day 27 … S Day
Before I go into the S Day I'll wrap up Day 26. After eating early and purposely getting to bed early because Day 27 will be very difficult and the bedding is so good I find myself in bed and asleep by 9:30. Perfect. Well almost. At 12:15 the phone in my room starts ringing and I mean really ringing. It shocks me out of the sleep I was hoping to get and I'm sitting up in a completely dark room, I can't find a light switch and I can't find the phone in spite of the noise. I finally find it and it's the Hotel manager calling to ask if he can come to my room to check on a problem. My shower is leaking to the lobby level. Yes. What else can I say? He comes to my room and shuts off the water to the shower and leaves. There goes my great nights sleep. I get back to sleep shortly after the plumbing problem is solved and wake up at 7:00.
I go through my morning routine of coffee, stretching and packing and I'm out the door at 8:15. As soon as I step outside I'm immediately struck by the temperature. It's chilly … actually cold. I walk out of the village and over the last bridge and decide to unpack my rain jacket. As I'm going through the process of getting my jacket out I also decide that the bridge might be a good first photo but there is just one problem … my phone is missing. I'm now on my way back to the hotel a bit panicked but somewhat sure it's there. Thankfully I've only gone a short distance or as Big John from Arizona would say, just another detour.
I'm back at the hotel and yes I left it in the room. It's now 8:50 and once again I start Day 27.
I'm taking the road route for the first eight miles and that will be flat and easy before I reach the dreadful hill at about the eleven mile point. I cover the first seven miles pretty quickly before I take my first break. I'm trying to walk as far as I can in the cooler temperatures. I take a break, have a little something to eat and I'm back on the Camino. I don't see many of the familiar faces but I do meet a new interesting Pilgrim. His name is Lon, he's from Switzerland. He strikes up a conversation with me as he is about to pass me. I've given him the name Cinco because this is his fifth Camino, all from St. John. He brings up the walk to the Cruz and is of the opinion that it's the hardest day. Given the fact that he's faster than I am and it's his fifth Camino I can't argue that. He wishes me Buen Camino and off he goes. I'm sure he's older than me. I wish I had asked.
As I approach what is the last village before you start the climb I stop at a little stand owned by a young women who offers freshly made as you wait fruit drinks. I order the banana, melon and blackberry combo with ice. Great last stop. I'm back on the Camino and I see ahead a taxi loading four young Americans. I've seen them before but never met them. They tend to only talk to people who are within a year or two of their age. As I walk past them about to face the hill one of the young girls sees me and turns away I believe out of embarrassment that they are about to skip the hill by way of taxi while this old guy carrying his backpack is going to do it. Interesting.
Once all of the days chores are complete I walk to the end of the village to have dinner. I'm hungry so I pass of the ensalada mixta and have the chicken. Just what I need. While I'm eating at the bar Billy, from Tio Pepe, the twenty year old really shy kid comes over to me and says hello. That's a nice surprise. We talk about today. I tell him he looks good and it seems he is happy about his new confidence. Terrific, I wish him well and head back to my Hotel. It is 7:30 and I'm in bed as I'm writing this. Tomorrow is SA Day. Going to do my best to get a full night's uninterrupted sleep!
Good night. Buen Camino.
Miles today: 16.2
Miles to date: 410.9
Steps today: 43,802
Steps to date: 966,090
Flights to date: 773
Total donations to date: $34,700.40