Walking for Water with Camino Jim- Day 1. It won't take long to find out if I'm prepared …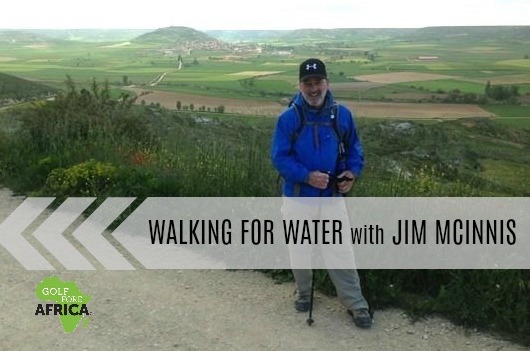 SATURDAY, AUGUST 25, 2018
Day 1. It won't take long to find out if I'm prepared …
The first day is here. There isn't much debate about how difficult this first day is going up and over the Pyrenees. Often referred to as the Route de Napoleon because it was the route chosen by the General to get his troops in and out of Spain during the Peninsula War. As written in John Brierley's guide to the Camino de Santiago, " This stage is one of the more strenuous and veritable baptism of fire into El Camino and Spain. This stage represents one of the most steepest ascents of the whole pilgrimage." So as I head to the Camino I want to give a shout out to my pilgrim brothers, Pat and John and to my Pilgrim sister Carol who know what lies ahead … Buen Camino.
I was awake early just could not sleep, a combination of the bedding and anticipation I guess. I went to breakfast at 7:30 and of course it was the usual carb fest. Lots of bread and a selection of cheeses with real coffee. The one thing I did not train for was the coffee. Here it's really meant to get your attention and at 7:30 with little sleep it works.
Once I packed it was time to go so I headed for the Camino. There were only a few headed for the Camino so the difference between the crowds of yesterday and this morning was surprising. As I approached the start there was a couple just ahead of me who turned right and went to the road route while I headed up the hill for the mounta route. The mountain route gets your attention very quickly as it starts straight up hill and continues up hill for about five miles. I was ver pleased with the way I felt going up hill and grew increasing confident that I was prepared.
The weather was perfect. Cloudy with lots of fog which meant a perfect temperature of about 60 degrees. I did take lots of pictures today which also forces you to stop to do so. I brought a little lunch from the hotel and lots of water. When I left the hotel my backpack weighed 20.5 pounds. A good weight given that I'm carrying 60 ounces of water. I caught up to a couple taking a selfie and volunteered to take their photo and they returned the favor and took mine. They were from Melbourne Australia, father and daughter. They were only going from St. John to Pamplona which is a three day walk but they were taking slowly and planning to do so in six days. Their first stop was just a short distance ahead. I envived them.
After the first uphill seven miles the weather changed and the fog thickened and the wind picked up. I caught up to about a dozen pilgrims scattered about a plateau all frantically in wardrobe change as some nasty looking weather was moving quickly in our direction. I followed suite and added a layer as the temperature dropped quickly to 50 or less. Rain gear was the order of 5ge day and this meant my new red poncho was about to makes its debut. Once I had everything organized I went back to the never ending uphill climb. I checked my iPhone and I was now eight miles into the days journey. At about the ten mile point I was drenched from sweating because of all the added layers and because the storm did not bring any rain. Time for another wardrobe change.
The fog was still significant but was soon replaced by the sun and an increasing temperature. I only saw one pilgrim struggling with an obvious limp which does not bode well given what lies ahead … the very difficult downhill section which runs for about seven miles. There was a Camino van which drives up to you and sakes if you are okay and capable of continuing. I was asked and they gave me a thumbs up. I can only hope that the van found her before the trail would prevent them from finding her.
As much as I felt good at the beginning it did not take long to realize how lacking my downhill preparation was. The final five miles, all straight downhill, were really difficult. I just took my time and really slowed down. It took me more than two hours to complete the last two miles. It would be very difficult to describe how great it felt to reach my hotel and take off the backpack and just sit down.
Here are my totals for the day from my iPhone:
15.8 miles
45,514 steps
Good night, Buen Camino.