Day 4: Education and Watermelons -Esther Choe
Hi all! I had no wifi during my time in the western province, so my blogs are a little late. Day 4 was really special for me. We visited Nalumino Mundia Primary school, Kashuwa village, and Shimano rural health clinic. Here is what stood out to me in each place.
I was very excited to start the day off visiting Nalumino Mundia Primary school because my favorite golfer (other than Betsy, of course!), Lorena Ochoa, funded the well for the school. Lorena continues to impress me even after her retirement. Not only does Lorena invest in schools and education in her native Mexico, but she is also making an impact at a school of 487 students in rural Zambia. School attendance and performance has gone up drastically since having clean water at the school. Students no longer have to fetch water for their households before school which made them tired and unfocused in class. They are also not drinking dirty water which made them sick and miss school. One brave girl spoke out and said she does not have to miss school one week out of the month because of her period now that there are clean water and sanitation facilities. It was so great to see the enthusiasm of the students and their determination to learn. And I'm happy to know that learning can now be their primary focus.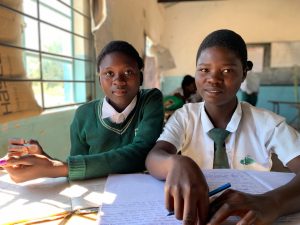 The most surprising visit of the trip so far was at our next stop, Kashuwa village. From the school, we drove what seemed like forever to the middle of nowhere. We were driving through fields with dry grass taller than our car and wondering where we could possibly be going and who could possibly live out that far. And then the fields cleared, and we saw the hand-pump well funded by Golf Fore Africa donors Kris and Gerry Stenson, with several large gardens beside it. The gardens were beautiful, healthy and abundant. Each plot was also heavily fortified with branches so that animals could not get to it. The women who tended the gardens came out one by one, and what a joy it was to spend time with them! What struck me was that this well was only put in a few months ago, and the women of the community had already taken full advantage and had a business selling fruits and vegetables. It never ceases to amaze me how entrepreneurial people get when given an opportunity. This is another example of how having access to clean water goes beyond just having safe drinking water. These women were living with purpose, and so excited to show us around their new efforts. Debbie was gifted a watermelon from the garden which we later shared at dinner. How awesome and special it was for us to enjoy that watermelon that was grown from well water provided by Golf Fore Africa!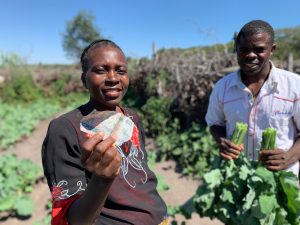 The last stop we made was at the Shimano rural health clinic. It was my first time seeing a mechanized system that Golf Fore Africa has funded. This system works through solar power and has a large holding tank where water can be distributed to taps throughout a health clinic, school or communities. Seeing this health center was eye-opening. This clinic sees 100 patients daily during high malaria season, and also delivers about 30 babies a month. Can you imagine delivering a baby without clean water? Previously, women had to walk to get a bucket of dirty water from a river or pond and bring it with them to wash their babies off after birth. One of the seven nurses at the clinic showed us around and sat down to talk with us. In addition to helping patients, it was great to hear that running water at the clinic has been a huge encouragement to the nurses there who work tirelessly to care for the surrounding communities.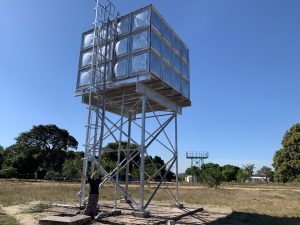 Water seems like such a simple resource, yet its impacts are vast. Once again, it has been eye-opening for me to see the extent water effects individuals and communities.